Our Kitesurf camp will begin in October until the month of April. These are the months with the best conditions to ride in the amazing turquoise waters of Formentera. This project has been shaped together by an association of several companies, each one of them bringing their share to make KITESURF CAMP FORMENTERA an unforgettable experience.
Formentera has the best beaches in the world, you will be able to enjoy your favorite sport in all its modalities. Waves, flat sea, deserted islands where you can easily ride to, etc. At our KITESURF CAMP FORMENTERA, we have all the gear you need (Naish), and can choose between the different packages to enjoy our beaches however suits you best.
 It truly is the ideal place to spend a few days and enjoy the best conditions for Kite surfing.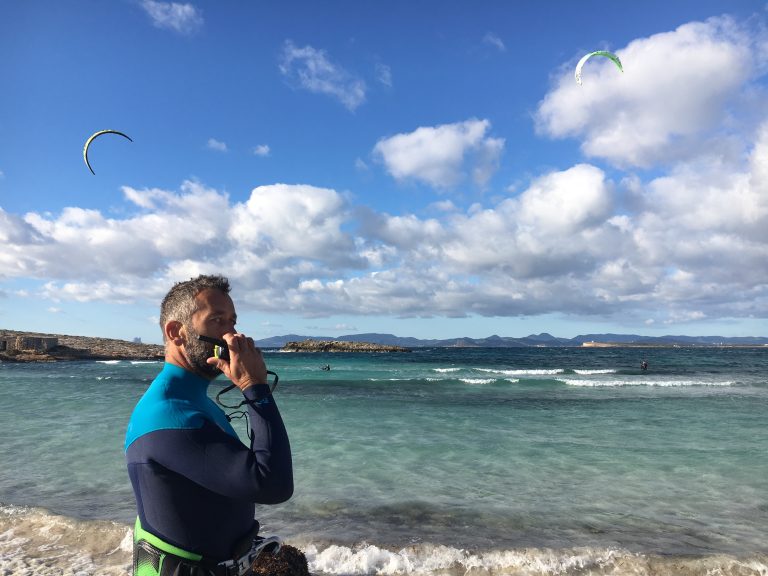 PACKAGE DESCRIPTIONS
Our associates have more than 17 years experience in teaching, you will be in the best hands with our instructors who will always put your safety first.
All prices are for a 7 day stay, in case of varying the number of days please contact us to accommodate your needs.
FULL PACK 7 DAYS
7  hotel nights with breakfast.
All the kitesurf gear (if you already know how to ride, the wetsuit and harness are not included).
10 hour Kitesurf Course spread out during the 7 days (wetsuit and harness included).
All transfers (airport, beach. port)
 Instructors and logistics support.
All alternative sports in case the wind lets us down on any day (paddle surf, mountain bike, horse riding, kayak, hiking, cave exploration, etc...)
HALF PACK 7 DAYS
This pack is designed for those that bring their own gear or that want to enjoy the other sports and activities  that we offer.
7  hotel nights with breakfast.
All transfers (airport, beach. port)
 Instructors and logistics support.
All the activities offered in our camp:
Kitesurf.
Paddle surf.
Surf.
Snorkeling.
Kayak.
Horse riding.
Diving.
Massages.
Yoga.
Hiking in the natural reserve.
To quickly resolve any doubts: WhatsApp +34 661 979 924
If you'd like more information about prices, availability and dates or if you wish to reserve your place in our next
Kitesurf Camp Formentera, please contact us and join the fun and adventure!